Below is a great article published by LSTAR – giving an excellent insight into March statistics and other general Real Estate Trends:
The London and St. Thomas Association of REALTORS® (LSTAR) announced 1,296 homes exchanged hands in March, an increase of more than 56% compared to the same time a year ago. The total sales are the highest recorded for the month of March since the Association began tracking data in 1978. 
"We've experienced a very robust start to the first quarter of 2021, with the seventh consecutive month of record sales," said LSTAR 2021 President Jack Lane. "Three months into the year, there have been 2,671 sales, up more than 30% over the same period last year. If you're considering listing your home, get in touch with your local REALTOR® who can help you navigate through this marketplace." 
Low supply and high demand continue to affect the average sales price across the major areas of LSTAR's jurisdiction. 
The following table shows last month's MLS® Home Price Index (HPI) benchmark prices by area and how they compare to the average sales prices. The HPI benchmark price reflects the value of a "typical home" as assigned by buyers in a certain area based on various housing attributes, while the average sales price is calculated by adding all the sale prices for homes sold and dividing that total by the number of homes sold. The HPI benchmark price is helpful to gauge trends over time since averages may fluctuate by changes in the mix of sales activity from one month to the next.
| Area | March 2021 MLS® HPI Benchmark Price | March 2021 Average Price |
| --- | --- | --- |
| Elgin | $563,900 | $667,091 |
| London East | $490,600 | $504,399 |
| London North | $681,900 | $732,163 |
| London South | $555,400 | $640,213 |
| Middlesex | $834,600 | $720,331 |
| St. Thomas | $469,500 | $563,047 |
| Strathroy | $671,600 | $633,564 |
| LSTAR | $566,000 | $634,799 |
"Another area we monitor is inventory, which shows how long it would take to liquidate existing inventories at the current rate of sales activity," Lane said. "At the end of March, there were 0.4 months of inventory, lower than the 0.6 months of inventory reported at the end of February. Out of the five main areas, St. Thomas and Strathroy had the lowest housing supply, with only 0.3 months of inventory. Elgin had the highest supply with 0.7 months."
Single family homes were the most popular types of homes for sale and sold in March, with 941 sales. The table below shows the March benchmark prices for all housing types and how they stack up against the values from a year ago.
MLS® Home Price Index Benchmark Prices
Benchmark Type
March 2021
Change over March 2020
LSTAR Composite
$566,000
↑ 36.2%
LSTAR Single-Family
$625,300
↑ 41.3%
LSTAR One Storey
$555,100
↑ 35.0%
LSTAR Two Storey
$698,300
↑ 46.2%
LSTAR Townhouse
$419,300
↑ 26.9%
LSTAR Apartment
$286,500
↑ 3.2%
Despite increases to the HPI benchmark price and average sales price, homes in LSTAR's jurisdiction continue to remain relatively affordable when compared to houses from some other major Ontario and Canadian centres. The following chart is based on data taken from the CREA National Price Map for February 2021.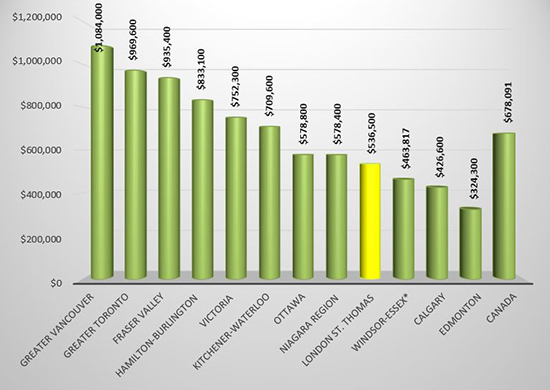 Contact Yasir Khan at RE/MAX Today for free consultation! See if buying and selling is the right move for you. Capitalize on the Homes For Sale in London, Ontario today!  Call today and get a Free Home Evaluation today!